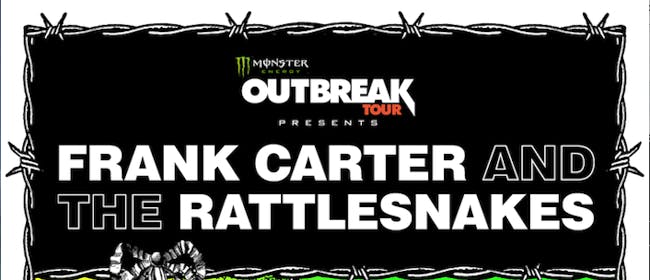 The Rialto Theatre Presents
*Canceled* Frank Carter & The Rattlesnakes
Frank Carter & The Rattlesnakes
Doors 7PM | Show 8PM | 21 and Over
**SHOW CANCELED**
Due to injuries Frank sustained in last week's car accident, Frank Carter & The Rattlesnakes will no longer be performing at any dates on the North American tour scheduled to take place in September and October.
Unfortunately Frank has been advised by doctors not to travel – let alone perform – for a number of weeks. This has made it impossible for us to honour the dates booked and we regrettably have to cancel. We are all absolutely devastated by the current situation but as stated before, Frank and Pete are both incredible lucky to have survived the crash without even more serious injuries. We are so sorry to our fans across the country who had bought tickets, and The Beaches and Evan Konrad who were joining us for the tour.
We are working on our plans to return and hope to be back in the spring of 2020. Details of this will be shared as soon possible but for refunds and further details on the cancelled dates please visit venue websites.
Thank you always, for the support. We will see you soon.
Rattlesnakes x
All credit and debit cards will be automatically refunded- for cash refunds, please return tickets to point of purchase.
Frank Carter & The Rattlesnakes perform at 191 Toole on October 16th, 2019...
Making their name with full-bodied, hard-hitting punk rock reinforced with a hard rock undercurrent, Frank Carter & the Rattlesnakes were formed in 2015 by Carter, former lead singer with the successful U.K. punk band Gallows. Carter was a founding member of Gallows in 2005, but in 2011 he came to an impasse with the group over their musical direction. Carter left the band and debuted a new group, Pure Love, in 2012, whose sound was more indebted to mainstream rock and had a more positive lyrical stance. Pure Love released a handful of singles and one album, 2013's Anthems, but in April 2014, Carter announced the digital release of the group's final recordings. In March 2015, Carter launched a new project, Frank Carter & the Rattlesnakes, with Carter on lead vocals, Dean Richardson (formerly of Heights) on guitar, Thomas Mitchener (another alumnus of Gallows) on bass, and Memby Jago (who'd previously worked with the Ghost of a Thousand) on drums. With a sound that returned Carter to the forceful sound of Gallows, Frank Carter & the Rattlesnakes made their recorded debut with the 2015 EP Rotten, and in August 2015 they dropped their first full-length album, Blossom. The band was soon touring regularly in the U.K. and Europe, and in 2016 they introduced a new lineup, with Mitchener and Jago replaced by a new rhythm section of drummer Gareth Grover (formerly of Gallows and Haunts) and bassist Tom "Tank" Barclay. Carter & the Rattlesnakes' second album, Modern Ruin, was released in January 2017 and charted at #7 in the UK album charts.