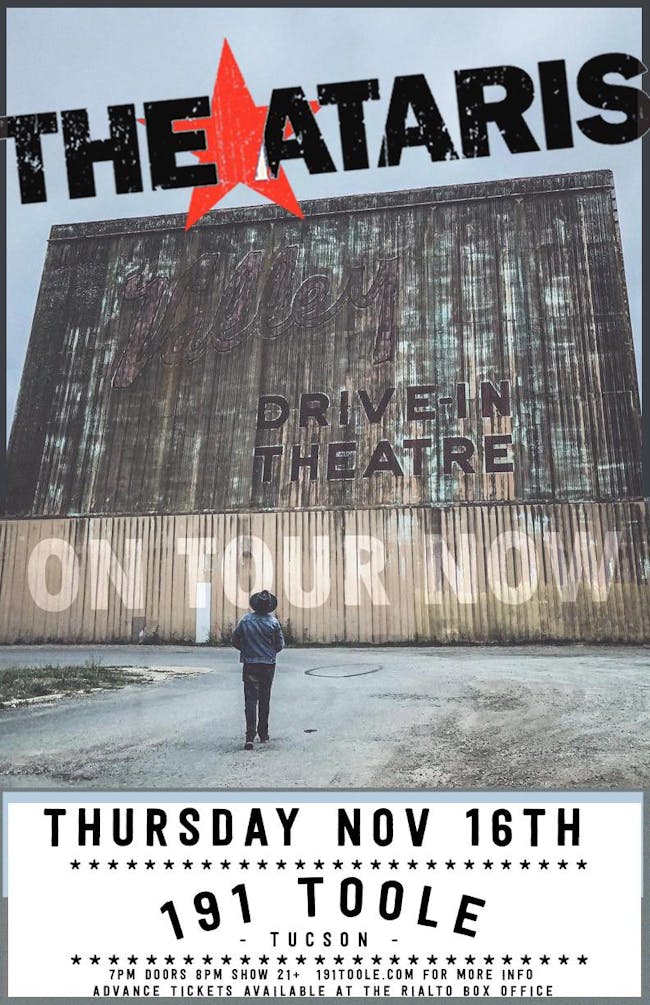 Presented by The Rialto Theatre
The Ataris
Alien Atmosphere
Doors 7pm | Show 8pm | 21 & Over
The Ataris are an American alternative rock band from Anderson, Indiana, that formed in 1995. They have released five studio albums to date, their most successful being "So Long, Astoria" which was certified Gold.
The four piece came together in 1995 when, using a 4-track tape recorder, singer-songwriter and guitarist Kristopher Roe, and guitarist Jasin Thomason, would write and record demos with a drum machine whilst searching for a full-time drummer.
The band's big break came in 1996 when Roe and Thomason attended a show to see the band The Vandals, who owned their own label "Kung Fu Records. Thomason gave a tape to Joe Escalante, a bassist from the band. The Ataris were later signed to the record label and eventually found drummer Derrick Plourde. Fast-forward a couple of months to April 29th 1997, when The Ataris released their debut album "Anywhere but Here" which only took a week to record. The band relocated to Santa Barbara, California. The band had to undergo some line up changes in this transition period, but their popularity started to bloom.
In 2002 saw the Ataris new album "So Long, Astoria" start to take shape. Their contract with Kung Fu Records had expired but they had the attention of Columbia Records to decided to sign with them. This album catered to a much more mainstream audience and generated successful singles such as "In This Diary" and "The Saddest Song". The album also featured their cover of Don Henley's "the Boys of Summer" which became their "accidental" second single after a radio station, KROQ in Los Angeles started playing it. However, it is the band's highest charting single to date, reaching No. 20 on the Billboard Hot 100. The album sold over 700,000 units in total and was certified Gold.
The band has remained a band to this day but it is very much the brainchild of Roe, with him being the driving force behind the band and the original member. In 2013, The Ataris began a North American tour with Kris Roe and the former members John Collura, Mike Davenport and Chris Knapp to celebrate the 10 years of their most successful album, "So Long, Astoria".
with Alien Atmosphere ...
Alien Atmosphere is the American rock pop duo formed by the identical Kwilosz twins hailing from Tucson, AZ. With a catchy sound that blends anthemic hooks into genres of blues, pop, rock and adult contemporary, multi-instrumental brothers Nick and Matt have grown Alien Atmosphere from a twin desert duo to a promising breakout act, with featured performances alongside Awolnation, Jimmy Eat World, The Offspring, Anberlin and Neon Trees.