beabadoobee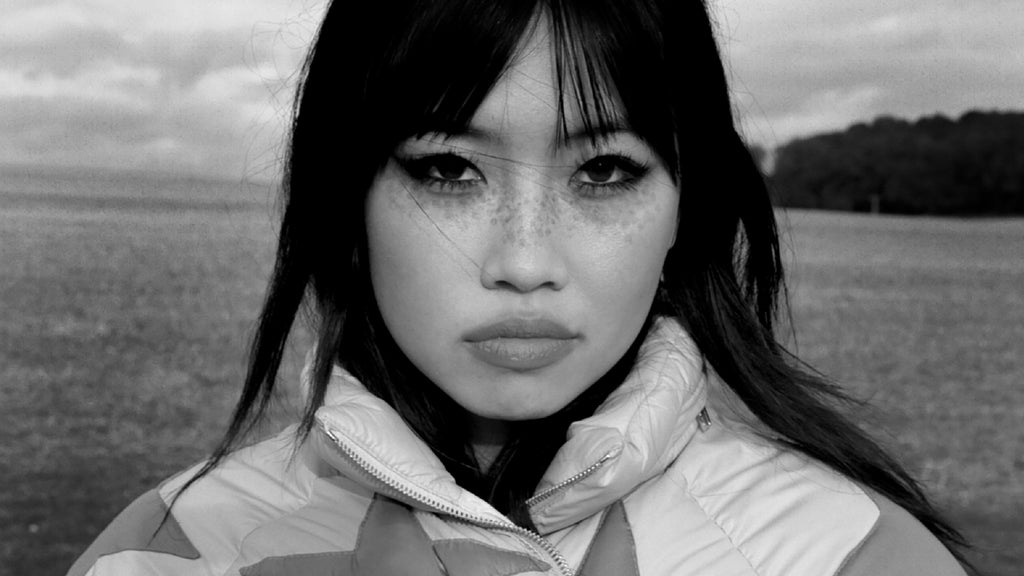 ABOUT THE ARTIST
WEBSITE | FACEBOOK  | INSTAGRAM | TWITTER | LISTEN
Once upon a time, when Bea Laus was seven, she invented a fantastical world. 
She named its countries, cities, and towns with all the care of a benevolent creator, and based its alphabet on Chinese and Japanese characters she had seen written down. It was a vast, sprawling place – big enough so that Bea could disappear into it whenever she needed to. She called it "Beatopia."
The only problem with Beatopia, however, was that while its dreamy, infinite possibility allowed Bea an escape, it still had to contend with regular life, which is not exactly known for its imagination or boundlessness. One day at school, Bea had drawn a poster, showcasing her beloved Beatopia in all its splendour – and this was where the trouble began. Bea tells the next part better herself:
"So I'd left that poster on my desk to go to my violin lesson, and I came back and everyone was staring at me. And I was like, 'Why is everyone staring at me?'
"And my teacher – who was a dickhead – was like: 'Do you have anything to say? Do you have anything to tell us?' 
"And I was like, 'What do you mean?' And everyone starts laughing. He had blu-tacked the poster on the whiteboard for everyone to see. He just took the piss out of me. 
"So I never spoke about Beatopia again."
Until now, that is. 
*
Fourteen years later, Bea – who you, of course, know as beabadoobee: iconoclastic musician, generationally talented songwriter, and walking proof that guitar music is healthy and thriving – is finally ready to cordially invite you into her world, as represented by her second full length album,
Beatopia
.
Made over the course of a year, beginning in the winter of 2020,
Beatopia
is the result of both personal healing and intense collaboration. "I brought Beatopia back because when I was writing the album
I got very comfortable with myself," she explains. "I was able to reflect on everything that has happened in my life. It was the first time my therapist was like 'Oh my god, therapy's working for you now!'"
Through a deeply intimate collaboration with her live guitarist Jacob Bugden, who Bea describes as her "best mate" ("I always romanticise it because in all the bands I like, the singer always works with the guitarist, and they're the two people who make the music," she says – it works because they're both double Geminis) and with co-production from Iain Berryman (Wolf Alice, Florence + The Machine, Arcade Fire),
Beatopia
was born as a testament to the wonders that self-acceptance and loving the people around you can conjure. 
In resurrecting the inner life that was once used to shame her, Bea, now 21, found herself finally able to let her friends and fans in, throwing herself into the thrilling experimentation that defines this brilliant second record. The fruits of her freedom range from bossa nova ("perfect pair") and midwest emo ("Pictures of Us," co-written with and featuring vocals from
Matty Healy), to OPM-influenced classicism ("You're here, that's the thing"). Her signature spiky-haired guitar sound also of course makes an appearance throughout – it's most present on lead single "Talk" ("It would be illegal if I released an album without a song like "Talk!"" Bea laughs, adding that the track bridges the gap between her first album
Fake It Flowers
, and this new release) – but she's more untethered by genre or expectation than ever before.
"People sometimes overthink albums," Bea says. "Like, everything has to sound like it's part of the same album. If the same artist is writing the album, every song could sound completely different – but if it comes from the same heart, then it's part of the same thing." This approach, was liberating, and inspired her when it came to
Beatopia
tracks like "Sunny Day" and "Lovesong": "I've always wanted to make a hip-hoppy beat, I've always wanted to make a cute love ballad," she says.
The sonic changeups on
Beatopia
are counter-balanced by its visuals, and it all shakes out to feel like Bea's most cohesive work yet, with creative direction by Patricia Villirillo, music videos by Luke Casey and Alexandra Leese, and album artwork of innocent, childlike beauty by tattoo artist Shabalaparabala. The visual style of
Beatopia
is, in Bea's words "timeless." Touchstones include Björk; the Thai short film
Mobile Men
, directed by Apichatpong Weerasethakul; and Papa Roach's "Last Resort" video – a reference for the
Beatopia
campaign's first video, the electrifying "Talk", which features a crowd made up of fans who auditioned following an Instagram callout.
"From the fashion to the music," Bea says of the aesthetic
Beatopia
occupies. "I feel like it's something that's gonna stick with me til I'm about 60 years old."
Beatopia
in general feels like the logical next leap forward for beabadoobee. Since she burst into music fans' collective consciousness aged only 17, she has been a singularly authoritative musical voice that has only grown in confidence and volume. It was back in 2017 that "Coffee," a song Bea wrote in her bedroom not long after she first started playing guitar, unexpectedly racked up hundreds of thousands of YouTube views (it still regularly trends on TikTok even now). Industry interest built while she was still studying for her A Levels, and in 2018, Bea ultimately signed with Dirty Hit – home to The 1975, Wolf Alice, and all the rest of the UK's best rock bands. 
A number of EPs ensued –
Lice,
Patched Up
,
Loveworm
and
Space Cadet
– over the course of which Bea's frame of experience grew. Looking back on that time now, she remembers that "Making music specifically was something I had to grow into loving. I loved listening to music, I loved music in general. But the idea of being a musician and touring the world and going to the studio was something I really had to get used to because I didn't know what that world was. I was a 17 year old girl."
There was a steep learning curve as Bea's sound also expanded, from the sweetness of her early recordings to the electric guitar bite that characterised her debut album
Fake It Flowers
, released to rapturous acclaim in October 2020. The record was celebrated by fans and critics alike for its fascinating blend of forward thinking and nostalgia, while Bea proved herself as a formidable, agenda-setting songwriter – who, as we've now seen, helped to herald in a new era of guitar pop, with sonic concoctions that could easily have been taken from the soundtracks of everyone's favourite 90s and 2000s teen movies. 
Ahead of the release of
Fake It Flowers
, Bea became one of the most talked-about artists in British music, scooping up accolades left, right and centre: she won the 2020 NME Radar award, was shortlisted for the BRITs Rising Star award, and made it onto the BBC's Sound of 2020 poll. Later that year, the pandemic waylaid some touring plans, though Bea was able to see the sunny side: "I feel like songwriters really flourished because we had all this time," she says of the lockdowns. In April 2021, she released
Our Extended Play
, a collaborative EP that she made with The 1975 during an isolation period, and by that point had already been working on
Beatopia
for months. "Having all that time, me and Jacob could write anything we wanted," she says. "We had so much creative freedom, it was just the most blessed situation."
The time to concentrate allowed Bea and Jacob to commit experiences to record almost as they happened. "With
Fake It Flowers
," she explains, "I was dwelling on past events, and talking about what happened at the time.
Beatopia
is the most now album. It's like, 'I experienced something the day before, I'm gonna write it the next day, and I'm going to make it the day after.'"
An important example of this way of working is "See You Soon," which Bea definitively calls her favourite song she has made to date. It was written straight away after a memorable trip on shrooms, during which "I cried for two hours and felt all the negative energy come out of me. I was on concrete floor, and I would do this thing where I would stand up and just fall to the ground, and I felt no pain," she remembers. The eye of "See You Soon"'s chorus glints with the prospect of arena singalongs, its largesse as all-encompassing for the listener as the trip was for Bea. It is a deeply special song to her because, as she says, "it was like it had already existed before I made it."
Creating the album with a friend her own age made the experience of writing the song with this much immediacy feel even more special. "I have experiences of being in the studio and working with another person and realising their way of making music, and I find it really interesting," Bea says. "But this is my way, and I feel like if you find a way you should stick to it."
They holed up in their west London studio smoking zoots and listening to The Cardigans, Aphex Twin, and Cibo Matto, all of whom influenced the record. Occasionally they were joined by co-writers like Healy, Jack Steadman of Bombay Bicycle Club, and Starsmith, as well as Georgia Ellery from the bands Jockstrap and Black Country, New Road, who contributed violins to a number of tracks on the record, which is just one element that speaks to the sonic leaps this album takes.
Other times, their friends would come by – they wrote opener "Beatopia Cultsong" one night with Bea's then-boyfriend and a close friend. As Bea puts it, "We were all just getting fucked up, but we were so zen and chill. And we were like 'Let's just fucking write a song right now!' We were just all there chanting this intro music, playing bongos, and it was so trippy."
The collaborative nature of the album feels integral to Bea's love of it. "It was the first time I really appreciated everyone around me instead of despising everything," she remembers. "I thought, 'I should utilise the fuck out of the fact that I have so many good people in my life.'"
In terms of her relationship with herself, Bea says that ultimately the album is "about accepting my past and my actions, and seeing it as a part of me. It's your life and you can do whatever you want, and if you make mistakes, it's gonna help you for the end result – it's all gonna mean something at the end," she reasons. "It's definitely me getting over things about my self image, and feeling comfortable in a general sense of my life and who I am. I'm still working on it." 
In accepting these things, and being willing to share them with other people, Bea was finally able to unlock Beatopia again – and, clearly, it's never going back in the box. In 2022 Bea will take a victory lap on the storied stages of Glastonbury and Coachella, as well as finally playing shows in Europe and Japan, and taking on support slots for global stars Halsey and Bleachers. She's excited and honoured, but most of all, she just can't wait to keep spreading the good word of
Beatopia:
"I'm really excited to talk about this album. I'm gonna speak about this album until like, the next one comes, and I'm probably going to still speak about it then," she laughs.
"I've never had this before, and I've released so much music. Why does this feel so different?" Bea wonders aloud, before answering her own question.
"I think maybe it's called
Beatopia
and it reminds me of my childhood and it feels like I'm actually fucking growing up? It feels like this is really me. I just want it to make people feel the same way it makes me feel," she says. 
"And it makes me feel great."
So, strap in and get ready to feel good: you heard the woman. Welcome to
Beatopia
.
Social Links