Bob Log III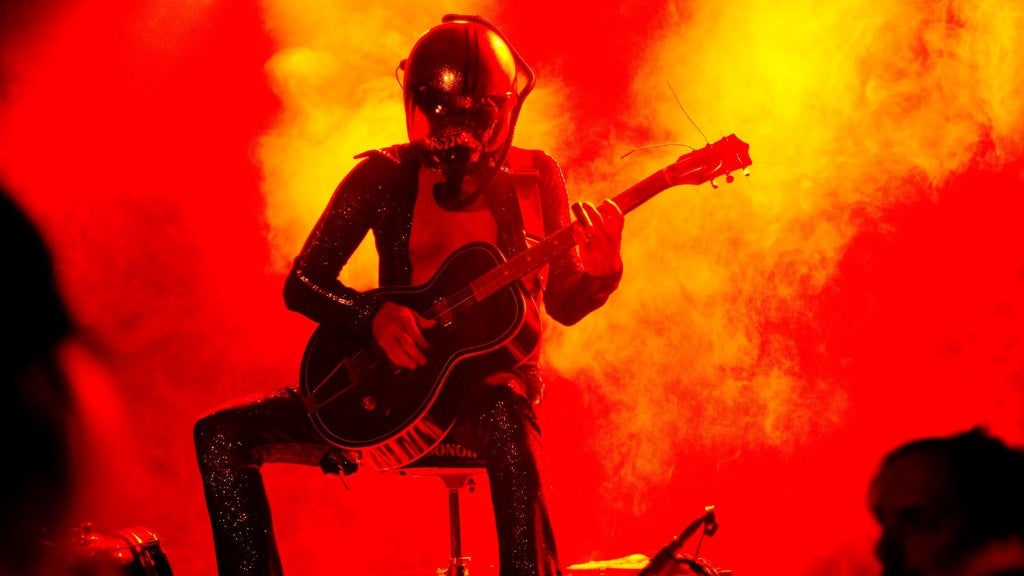 ABOUT THE ARTIST
Bob Log III is a one man band slide guitar party. A perverse product of the Arizona desert, Bob Log III has been diligently travelling the globe since 1996, showcasing his incomparable talents and developing a devoted following along the way. A whirlwind of dexterous limbs and digits, this super star sonic showman has to be seen to be believed. Clad in his cannonball man, extra tight jumpsuit and signature motorcycle helmet with telephone/microphone attached, Bob Log III unfailingly sweats up a river while kicking on a kick drum, stomping his homemade foot cymbal and playing slide on an old archtop guitar. His endless pursuit for musical mayhem and a downright party has seen his unique talents utilized for children's birthday parties, obscure beer barns, mammoth music festivals and everything in between. Yet, beyond these mesmerizing visuals, lies the true reason for Bob Log's international cult status and superhero adoration. It is quite simply the guitar playing - finger picked lightning, sliding up and down, stopping when it wants to, then starting again when it feels like it, all in a way that makes people move uncontrollably, smile and reel. ___
Excerpts from an unpublished journal – The Adventures of Bob Log III and His Faithful Guitar, by The Guitar Chapter 39 HELP! 162 shows this year! 30 Countries! My strings hurt! My nut aches! My volume knob was broken by a Swedish girl's butt! I don't even know where we are right now. We have been doing this for 12 years! One man, kicking shit and playing guitar! He never stops! EVER! People keep smiling, dancing, sweating, dancing...... I am covered in beer! His suit smells so bad!
QUOTES AND TESTIMONIALS
And now let's hear some actual words from notable people who know and love, or at least know Bob Log III... TOM WAITS "And then there's this guy named Bob Log, you ever heard of him? He's this little kid — nobody even knows how old he is — wears a motorcycle helmet and he has a microphone inside of it and he puts the glass over the front so you can't see his face, and plays slide guitar. It's just the loudest strangest stuff you've ever heard. You don't understand one word he's saying. I like people who glue macaroni on to a piece of cardboard and paint it gold. That's what I aspire to basically." MILTON BERLE "Hey kid.... DO what thou wilt." ROBERT PLANT "Dear Bob, it's been ages since Sweden." POISON IVY (The Cramps) "If you do that again, we are kicking you off the tour." HASIL ADKINS "Woooo! Can I have your autograph?" R.L. BURNSIDE "Sideshow, you hanging in there like a dirty shirt. I want you playing with me tomorrow, and the day after that, and the day after that." PEACHES "I am NOT from Miami, asshole." FRANZ FERDINAND (Nick) "... Can I ride in your car?" BLOWFLY "Bob Log, you play guitar by yourself, you play drums by yourself, you drive yourself, but I bet you need help to masturbate." GARY NUMAN "Hello" WEEN "Can I have one of your sandwiches?" SHARON JONES "Bob Log, you can use my dressing room. Wait...let me get you a towel." SHONEN KNIFE "Can we sit your knee?" JIMMY CARL BLACK "Bob Log, I can't find the hotel." MICK COLLINS "What was that???" CHRISTINA SPENCER (BOSS HOG) "Can I wear your suit? Oh, wait...nevermind." SAHARA HOT NIGHTS "We're not mad! Really! We love Bob Log!" (in a Swedish accent) T-MODEL FORD "Try playing THAT, mutha fucker! HEY! You sat on my sandwich!"
ITOMO! "Nodo chinko????" RUMORS Yes, we have all heard the rumors: He has a monkey paw instead of a hand Girls like to sit on his knees and bounce while he plays Occasionally, various people from the crowd jump onstage and put their boob in his drink He rides in an inflatable dinghy over an ocean of fans These whispers are all best explained in the following article, which has been translated from its original publication in French, using the Transitron Whizgig 4000- "Mr. Bob Log appears, and so joy! It is of many nights and one thousand ladies, the guitar defeats us to dance. On the top, a crown. Never has this in time! Maybe not future. Only the now, her glowing hand, can be seen. Thunder of foot escapes the stage, chasing wild tempo with sound animal. We, the entourage, are not free. Arrested! But not of shame. Many times more we ask it. Encore, Captain. Encore!" And so you see, it is all true. All Bob Log asks is that you do the math...and if you do it (correctly), you will find that (with the single exception of Hasil Adkins) Bob Log has out-guitared, out-drummed, out-sweated, out-driven, out-boated, out- bounced, out-custom agented and out-inspired all other one-man bands. Numbers never lie. Bob Log III. MY SHIT IS PERFECT.
Social Links