Little Feat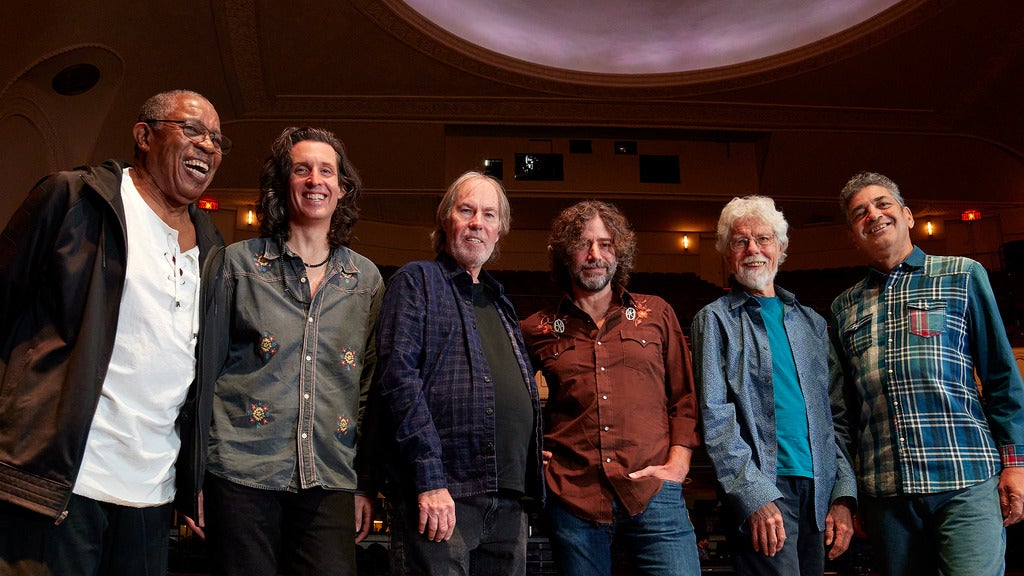 The Indomitable
Little Feat
WEBSITE | FACEBOOK  | INSTAGRAM | TWITTER | LISTEN
October 2021:  Having passed through ice—the Covid winter of the past eighteen months—Little Feat is ready to bring some fire.  They've announced their By Request tour for November 2021, and now they've added the
Waiting for Columbus
tour of March-April 2022.  Happy Feat, indeed.
Waiting for Columbus
was Feat's first live album, and it perfectly captures their consummate playing skill with extended versions of their early classic tunes.  Feat fans have been waiting for this tour for quite a while. The tour stoppage caused by Covid could not obscure the joy and sparkle of their incredible body of work.  As their newest song, "When All Boats Rise," puts it: "When All Boats Rise we will find another pathway / When All Boats Rise we will shine like stars above / When All Boats Rise we can ride the silver skyway / That day is coming soon When All Boats Rise." We need that kind of optimistic faith, and Little Feat is ready to supply it.  Feat, do your stuff. The members of Little Feat 2021 are:  Bill Payne, Keyboards and Vocals; Sam Clayton, Percussion and Vocals; Fred Tackett, Guitars and Vocals, Kenny Gradney, Bass; Scott Sharrard, Guitars and Vocals; and Tony Leone, drums.  Scott joined in 2019, Tony in 2020.  Lots more on them later, but for now…. Little Feat is very possibly the last-man-standing example of what used to be the norm in American music, a fusion of a broad span of styles and genres into something utterly distinctive.  They combined earthy, organic material with first-rate musicianship in a combination that transcends boundaries.  Feat took California rock, funk, folk, jazz, country, rockabilly, and New Orleans swamp boogie and more, stirred it into a rich gumbo, and has been leading people in joyful dance ever since. It all began in 1969 when Frank Zappa was smart enough to fire Lowell George from the Mothers of Invention and tell him to go start a band of his own.  The late Paul Barrere, Feat's long-time guitarist, wrote a few years back of how Lowell "came to the front door of the Laurel Canyon house I was livin' in, with that beautiful white 'p' bass in hand, and asked if I wanted to try out as bass player for his new band. As most who know the story's end can tell you, as a bassist I make an excellent guitarist…" Actually, there were quite a number of bass players that first year—that seat took a while to fill.  George first settled on keyboard wizard Bill Payne, then added drummer Richie Hayward and bassist Roy Estrada (also a Zappa vet).  They were quickly signed by Warner Bros. and began working on the first of twelve albums with that venerable company. The name was part of the legend.  A member of the Mothers happened to mention Lowell's small feet to him "with an expletive," said Paul Barrere.  "Lowell deleted the expletive, and the name was born with Feat instead of Feet, just like the Beatles.  Neat, huh?" The first album,
Little Feat
, featured the instant-classic tune "Willin'," and the follow-up
Sailin' Shoes
added "Easy to Slip," "Trouble," "Tripe Face Boogie," "Cold Cold Cold" and the title track to their repertoire, as well as a new version of "Willin'" that took it from pure Lowell to a fully-developed band tune.  Estrada departed, and the band signed up (on guitar!) Paul Barrere, Kenny Gradney (bass), and Sam Clayton (percussion), and the latter remain rock-solid members of Little Feat's rhythm section. 1973's
Dixie Chicken
gave them the title track and "Fat Man in the Bathtub," as good a blues as any rock band has ever written.  The hits kept coming: the title track from
Feats Don't Fail Me Now
(1974), which also gave us "Rock and Roll Doctor," "Spanish Moon," and "Oh, Atlanta," another Southern-based winner (pretty good for a bunch of guys from L.A.!).  1975 saw
The Last Record Album
and "All That You Dream."   In 1977,
Time Loves a Hero
delivered the classic title song, and their career to that point was summed up with the live
Waiting for Columbus
, truly one of the best live albums rock has ever heard. Success is hard.  It cost Feat their founder, Lowell George, who in 1979 took a break from working on
Down on the Farm
to do some solo dates and was struck down by a heart attack.  And it cost the band,  temporarily, their joy; shortly after, they disbanded. In 1986, Barrere and Payne met up in a chance jam session and found that they could still find that inspiration.  What they had written in "Hangin' On To The Good Times Here"— "…although we went our own ways, we couldn't escape from where we came, so we find ourselves back at the table again, telling stories of survivors and friends"—was of course true, as with any righteous song.  In 1988 they returned to the road, where they've been ever since (excepting the pandemic), joined by Craig Fuller on vocals and Fred Tackett on guitar. 
Let It Roll
re-introduced them to the world and was followed by
Representing the Mambo
and then
Shake Me Up
.  Craig left and Shaun Murphy joined in 1993; early in 2009 she departed the band.
Live from Neon Park
—the name choice was a tribute to the album cover artist most often associated with Feat— was a two-CD set taken from shows at legendary venues like San Francisco's Fillmore Auditorium and Portland (Oregon)'s Roseland Ballroom.  The studio albums
Under The Radar
and
Chinese Work Songs
added new favorite songs, especially "Calling The Children Home" and "Just Another Sunday," along with creative covers of Dylan, The Band, and Phish songs. In the early part of the new millennium, Feat started their own Hot Tomato Records and began to share their rich archives with their fans, producing the double CD collections of rarities
Raw Tomatos
and
Ripe Tomatos
from both fan and band tapes.  2002 also yielded
Live From the Ram's Head
, a two-CD acoustic show, and in '03 came
Down Upon the Suwannee
, a live show recorded on the banks of the river at the Magnolia Festival in northern Florida.  Hot Tomato also gave the musicians the freedom to deliver solo work, as well, first with Fred Tackett's
In A Town Like This
, and then Bill Payne's
Cielo Norte
, an intimate, lyrical marriage of keyboards. Their studio album from 2003 was
Kickin' It At The Barn
, produced by Paul Barrere, Bill Payne, and Fred Tackett. It's named after the place it was recorded, Tackett's barn-cum-studio in Topanga Canyon, which lent an invaluable ambience to the undertaking. In his liner notes, faithful Feat member Paul Barrere wrote, "If music is a conversation between the players, then we are talking like never before…this has been truly one of the most memorable recording projects we've done. We started with an idea to write songs on acoustic guitar and piano, like the old days before computers and samples, and then let the band interpret the music." Little Feat's rich legacy was acknowledged at the 25
th
anniversary of the monumental live album
Waiting for Columbus
when Rhino Records put out a special two CD edition of the original concert, plus outtakes, along with
Hotcakes and Outtakes:  30 Years of Little Feat
, a four-CD, 83 track boxed set featuring hits from all of Feat's albums as well as alternate takes and rarities from a rich past, which has included playing with everybody from Bob Dylan to Beck, Willie Nelson to Bonnie Raitt, Robert Plant, John Lee Hooker, and…you name it.
Join the Band
, in many ways a summing up of all that's preceded it, came in 2009, with re-recordings of their classic songs bringing together a vast slew of musical friends on vocals backed by Feat—Dave Matthews on "Fat Man," Jimmy Buffett on "Champion of the World," Emmylou Harris on "Sailin' Shoes."  Bill Payne said it was about locating their influences.  In some ways, it documents the way they've influenced the musicians who listen to them.  And it certainly documents a musical career. Their latest studio work is
Rooster Rag
, by critical consensus their best studio album in twenty years, featuring four songs co-written by Payne and the Grateful Dead's legendary lyricist Robert Hunter, four breakout songs by Fred Tackett, and a superb collaboration between Paul Barrere and the late Stephen Bruton. If you play long enough—and Little Feat has—you have to face everything.  Richie Hayward, the sterling drummer who'd held down the beat for nearly forty years, was finally taken down by liver cancer in 2010.  The same grim pursuer caught up with Paul Barrere in 2019.  Paul will always be missed, yet paradoxically his absence also confirmed the stunning power of the music that Little Feat has made for so very long. Paul's health was precarious, and so the band needed a substitute for the last two shows in a three-week run in October, 2019, with Larry Campbell and Teresa Williams.  They found their sub in Scott Sharrard, a frequent sit-in with Bill Payne's other band, the Doobie Brothers. Scott is best known for his role as guitarist and musical director with the late Gregg Allman, but he's had a long and successful career in addition to that.  Born in Michigan in 1976 on the day his hero Freddie King died, he came up in the bar band culture of Milwaukee in the '90s, where on a given night you could hear Buddy Miles, Hubert Sumlin, Luther Allison, and Clyde Stubblefield.  Soon he was catching on with dates in Chicago, where he jammed with two legendary Muddy Waters sidemen, drummer Willie "Big Eyes" Smith and pianist Pinetop Perkins. Scott's band The Chesterfields put out three albums and toured nationally, and then he went out on his own, releasing
Dawnbreaker
(2005),
Analog/Monolog
(2008),
Ante Up
(2009), and most recently,
Saving Grace
, recorded in Muscle Shoals at FAME studio with members of the legendary Swampers and Bernard "Pretty" Purdie. His time with Gregg Allman was rich, peaking when they co-wrote "My Only True Friend" for Gregg's last solo album,
Southern Blood
.  The song earned a Grammy nomination for Americana Song of the Year. His relationship with Little Feat goes surprisingly far back.  At the age of 12 he stayed up late to watch Feat play "Let It Roll" on "Saturday Night Live, what he called "one of my big bang moments."  He went on, "I grew up with the lifestyle of the way Little Feat music was crafted and Lowell George was a key influence of mine.  I was an overweight, Midwestern middle class white kid and when I heard Lowell sing and play—he kind of proved to me what might be possible for who I was.  It was that deep for me as a kid." So when he got a call from Bill Payne in the fall of 2019 to fill in for Paul on two gigs (Long Island and Pennsylvania), "I took it as seriously as a heart attack.  See, the Doobie Brothers guys have been big supporters of mine and when Gregg Allman passed they adopted (Gregg Allman Band percussionist) Marc Quiñones and our road manager Vid Sutherland  and a bunch of other people.  So when Bill was looking for someone, he was on tour with the Doobies and everyone was like Scott Sharrard.  And Bill had played with me—I'd sat in with the Doobies dozens of times, just playing guitar, but I never sang with them.  So his concern was that, checking out my vocals." "I got the catalogue together, came to do the first gig.  It was on Long Island, and I had never met Kenny, Sam or Fred before.  I knew the horns because one of them, Jay Collins, was with Gregg Allman and the other guys I knew from when I used to work at Levon Helm's Studio. And as I was checking out my rig and getting to meet the crew, the word came that Paul had passed away.   When I met Kenny and Fred and Sam for the first time, the first thing I had to do was give my condolences.  And then the announcement of his passing was the first thing that happened when I went on stage with Little Feat to hit the first note with them.  The fans didn't even know he passed away." "Those two gigs became kind of a very spiritual moment for the band, and I just brought whatever I had to the table as a fan first and then as a musician and it worked, it just worked.  I haven't had a lot of coincidences in my life and this was definitely one of the more powerful spaces I've ever been in where I feel like I was in the right place at the right time for the right reasons." Tony Leone was announced as the new drummer during the pandemic.  Best known for his 2002 collaboration with Amy Helm, Olabelle, his work in the Chris Robinson Band, Phil Lesh and Friends, and as a member of Levon Helm's Midnight Ramble Band, Tony actually moved through Little Feat orbits several times over the years.  Paul and Fred played on Levon's Ramble show, which led to the Midnight Ramble Band playing with Feat in Jamaica at least four times.  Tony was also twice a member of Anders Osborne's Jazzfest spinoff band Dead Feat. Tony recalled "fanboying" out on Richie when they first met, and assuming his seat is an honor he takes seriously.  "I can honestly say that almost every time I sit down behind the drums, there are a few guys that I always think of.  One of them is Levon Helm. And another one is Richie Hayward.  The thing that both of them had in common was their feel.  It wasn't necessarily their pyrotechnical abilities to astound the audience with their virtuosity or anything like that. It was like, no, when they sat down to play a song, immediately that thing had a groove that made the music dance, and made the people want to dance…The first tune I remember hearing that I knew it was Levon was "Up on Cripple Creek" and then the first Little Feat tune that I remember hearing was "Dixie Chicken" and they've both got that swampy backbeat shuffle thing going on." "Whenever I'm going to play those tunes, I'm always going to consult what Richie played first and I'm always going to try to play those parts with integrity.  And not to be a clone, but to try and give them a certain feel that he had." You can go a number of ways when you spend your life on the road.  You can get eaten up by the stresses and quit, or you can hold on to your music and your friends and the joy of the people out front and keep the priorities straight the way the Featsters have. Fifty years on, they've been up and they've been down and they know where they belong—standing or sitting behind their instruments, playing for you.  And anything's possible, because the end is not in sight.
Social Links