Jimmie Vaughan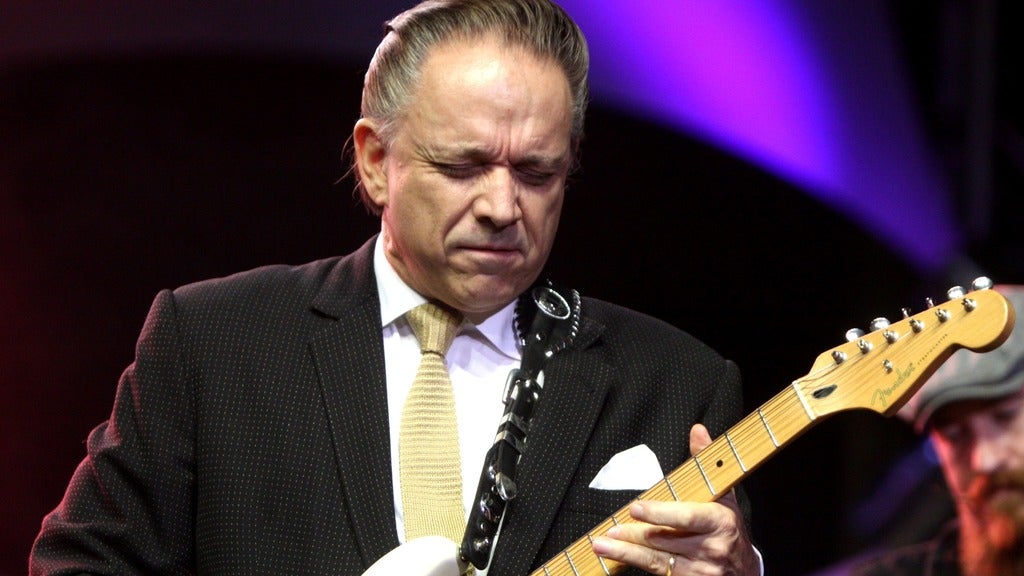 ________
 To provide a safer environment for the public and significantly expedite fan entry into our venues, Rialto Theatre & 191 Toole have instituted a clear bag policy as of March 1st, 2022. The policy limits the size and type of bags that may be brought into our venues. The following is a list of bags that will be accepted for entry: Bags that are clear plastic or vinyl and do not exceed 12in x 6in x 12in One-gallon clear plastic freezer bags (Ziplok bag or similar) Small clutch bags, approximately 5in x 7in All bags subject to search. Clear bags are available for sale at the box office.
________
ABOUT THE ARTIST
WEBSITE | FACEBOOK  | INSTAGRAM | TWITTER | LISTEN
Jimmie Vaughan is a Texas blues guitarist responsible for opening up the national market for roadhouse blues and R&B during the late 20th century. With his tough, lean style, he co-led the Fabulous Thunderbirds with vocalist Kim Wilson between 1979 and 1987. In 1990, he and younger brother Stevie Ray Vaughan cut Family Style. He launched his solo career with 1994's Strange Pleasure. Vaughan delivered Out There in 1998 and Do You Get the Blues? in 2001, his best-seller from the era. Vaughan recorded 2007's On the Jimmy Reed Highway with Omar Kent Dykes, and 2009's Blues Stop Knockin' with Lazy Lester. The best-selling Plays Blues, Ballads & Favorites appeared in 2010, followed by Plays More Blues, Ballads and Favorites, co-credited to singer Lou Ann Barton. Vaughan returned to recording with 2019's hit Baby Please Come Home. In 2021, a multi-disc box set, The Jimmie Vaughan Story, was released to commemorate his 70th birthday.
Born and raised in Dallas, Texas, Jimmie Vaughan began playing guitar as a child. He was initially influenced by both blues and rock & roll. While he was in his teens, he played in a number of garage rock bands, none of which attained any success. At the age of 19, he left Dallas and moved to Austin. For his first few years there, Vaughan played in a variety of blues bar bands. In 1972, he formed his own group, the Storm, which supported many touring blues musicians.
In 1974, Vaughan met a vocalist and harmonica player named Kim Wilson. Within a year, the pair had formed the Fabulous Thunderbirds along with bassist Keith Furguson and drummer Mike Buck. For four years, the T-Birds played local Texas clubs, gaining a strong fan base. By the end of the decade, the group had signed a major-label contract with Chrysalis Records and seemed bound for national stardom. However, none of their albums became hits and they were dropped by Chrysalis at the end of 1982.
At the same time, the T-Birds were left without a recording contract, Jimmie's younger brother, Stevie Ray Vaughan, came storming onto the national scene with his debut album, Texas Flood. For the next few years, Stevie Ray dominated not only the Texas blues scene, but the entire American scene, while Jimmie and the Thunderbirds were struggling to survive. The T-Birds finally received a new major-label contract in 1986 with Epic/Associated and their first album for the label, Tuff Enuff, was a surprise hit, selling over a million copies and spawning the Top Ten hit title track.
The Fabulous Thunderbirds spent the rest of the '80s trying to replicate the success of Tuff Enuff, often pursuing slicker, more commercially oriented directions. By 1989, Jimmie Vaughan was frustrated by the group's musical direction and left the band. Before launching a solo career, he recorded a duet album with his brother Stevie Ray called Family Style. Following the completion of the record, Stevie Ray Vaughan died in a tragic helicopter crash in August of 1990. Family Style appeared just a few months later, in the fall of 1990.
After Stevie Ray's death, Jimmie took a couple of years off in order to grieve and recoup. After playing the occasional concert here and there, he returned with his first solo album, Strange Pleasures, in 1994; it received good reviews and sold respectably. Vaughan supported Strange Pleasures with a national tour. Out There followed in 1998. Released in 2010, Plays Blues, Ballads & Favorites found Vaughan covering songs by Jimmy Reed, Little Richard, Roy Milton, Roscoe Gordon, and others who inspired him when he was first starting out as a musician. The like-minded Plays More Blues, Ballads & Favorites followed in 2011. Vaughan spent more time playing live and doing session work over the next eight years. He, Billy Gibbons, and Charlie Sexton played pivotal roles in encouraging guitarist and singer/songwriter Sue Foley to return to Austin from her native Canada. They worked with her on-stage and appeared on 2018's globally acclaimed The Ice Queen.
Vaughan had been quietly demo'ing blues and R&B covers over the years. He issued the fruit of those labors in mid-2019 with Baby Please Come Home, a Grammy-nominated set of classic blues, R&B, country, and soul covers associated with Lloyd Price, Jimmy Donley, Lefty Frizzell, Richard Berry, Chuck Willis, Bill Doggett, T-Bone Walker, Etta James, Fats Domino, Gatemouth Brown, and Jimmy Reed. Vaughan's band included his longtime host of compadres and guest vocalists Georgia Bramhall and Emily Gimble all playing live from the floor of a San Marcos studio with producer Mike Flanigin helming the sessions.
To commemorate his 70th birthday, Last Music Co. released The Jimmie Vaughan Story, a handsomely designed and illustrated 12" x 12" box set that included five CDs filled with archival material -- including 29 unreleased tracks -- a 12" vinyl LP of Do You Get the Blues, two 7" singles, and a hardbound book complete with an autobiography, dozens of rare photos, and a special issue of Rodder's Journal that featured the guitarist and his car collection on the cover.
Social Links