Pepper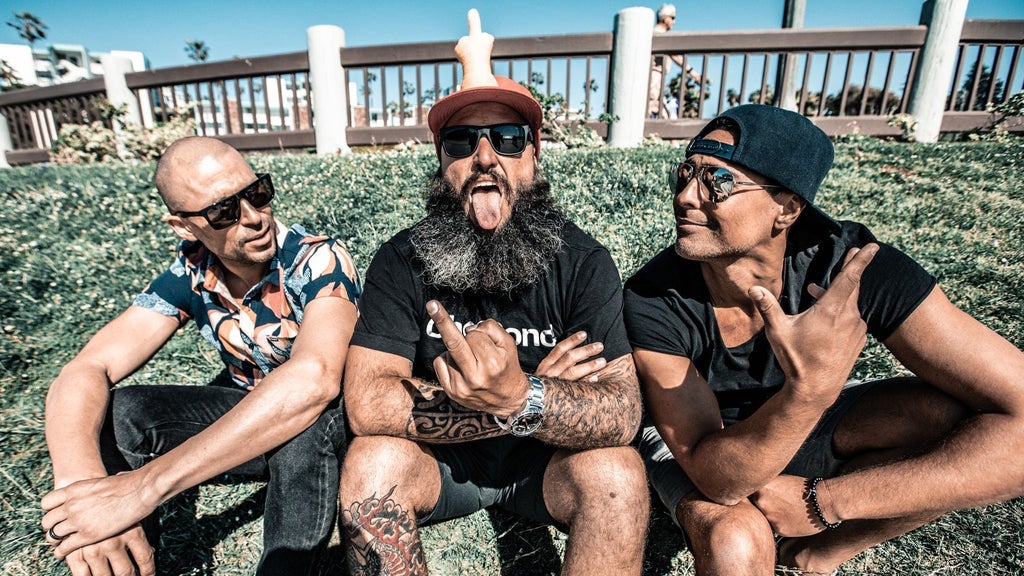 ________
 To provide a safer environment for the public and significantly expedite fan entry into our venues, Rialto Theatre & 191 Toole have instituted a clear bag policy as of March 1st, 2022. The policy limits the size and type of bags that may be brought into our venues. The following is a list of bags that will be accepted for entry: Bags that are clear plastic or vinyl and do not exceed 12in x 6in x 12in One-gallon clear plastic freezer bags (Ziplok bag or similar) Small clutch bags, approximately 5in x 7in All bags subject to search. Clear bags are available for sale at the box office.
________
ABOUT THE ARTIST
WEBSITE | FACEBOOK  | INSTAGRAM | TWITTER | LISTEN
Two decades. They've gone by in a blur, filled with soundchecks, encores, album releases, and sold-out shows stretching from the California coastline to the UK mainland. Along the way, Pepper has sharpened its own "Kona dub-rock" sound — a blend of reggae, alternative rock, island rhythms, and punky spirit — while also building a community of fans and likeminded bands. That communal spirit runs throughout the band's eighth studio album,
Local Motion
. After sharing shows for years with their heroes and peers, Pepper's three members — vocalist/guitarist Kaleo Wassman, vocalist/bassist Bret Bollinger, and drummer Yesod Williams — are no longer merely artists; they're ambassadors of a scene, bringing people together under an umbrella of positive-minded music and collaboration. Appropriately, they share the spotlight with some of their longtime friends on
Local Motion
, whose songs feature appearances by Stick Figure, E.N Young and Micah Brown of Iration. A celebration of artistic synergy, brotherhood, and modern reggae music,
Local Motion
is Pepper's most collaborative record to date, shining a light not only upon the three bandmates themselves, but also upon the wide community they've helped build. "We're part of a community of bands who have the same mindset," says Wassman. "They're our peers. They're our friends. We all exist on the same plane, and that's why we called this album
Local Motion
, because this is our local scene. It's where we fit in." Before Pepper began building a community in its adopted hometown of Southern California, the group held its very first rehearsal in 1997 in Kailua-Kona, Hawaii. All three members were natives of the Big Island, and together, they made a sound that nodded to their tropical roots while also moving forward into new territory. After earning a local fanbase in Hawaii, they moved to the mainland, where Pepper quickly became a popular live act. Pepper's diverse music allowed the group to tour the country with a wide variety of bands, including reggae icons (The Wailers), punk bands (Pennywise), reggae-rockers (311, Slightly Stoopid), and hip-hop legends (Snoop Dogg). Meanwhile, the band's admiration for DIY-minded groups like NOFX inspired Pepper to launch its own label, LAW Records, which gave the trio complete control over its own music. It also allowed the band to sign other acts, which expanded Pepper's circle even further.
For an album that features nearly a dozen guests,
Local Motion
was appropriately recorded with several producers, including Stick Figure, the English Beat's Wayne Lothian, E.N Young, Henry Fong, Jinco, the Dirty Heads' Dave Foral, and Jungle Josh. Working with a range of collaborators gave Pepper a chance to experiment with new sounds. The result is an album that pays tribute to the band's past while also pushing forward — and, perhaps, hinting at what might be in store for the next 20 years. There's the brass-filled bounce of "Carnaval," the sexed-up swagger of "Sugar (808 remix)," and the summery grooves of "Warning," all wrapped into a tracklist whose songs celebrate the bright side of a life well-lived. "When we moved to California, we were playing small clubs," remembers Bollinger, who now plays outdoor amphitheaters, indoor theaters, festivals, and other high-capacity venues with his bandmates. "We felt like we were one of the only bands carrying the flag for this genre in America. These days, it's different. We're seeing some real movement within the reggae scene. This sound has become an established part of American music, and we're grateful for the other bands who are flying the flag, too. Everything is connecting. The energy is right. Incorporating those bands into our new record was the perfect alignment of where we need to be." "In a world of social chaos," adds Yes Williams, "we wanted a 'return to community,' that community being the reggae-rock community. We continue to flourish and grow due to the synergy of likeminded bands and fans. Without each other, we are nothing, fom where the music comes from to where it goes. This record is filtered through the community, a true Local Motion that we are lucky enough to be a part of."
Social Links