Wishbone Ash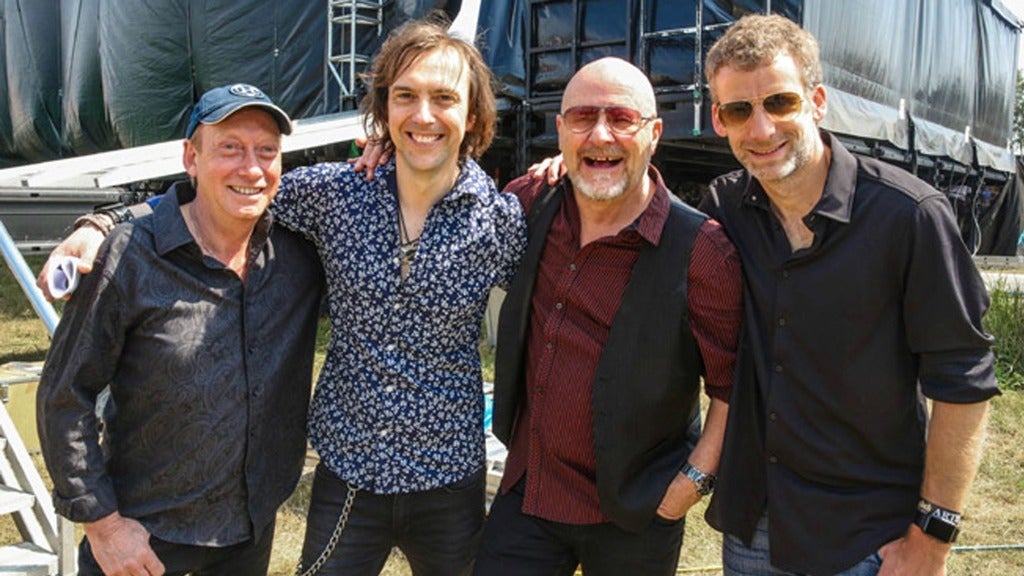 During the early and mid-'70s, Wishbone Ash were among England's most popular hard rock acts. The band's sound was rooted in energetic hard rock, with a strong progressive rock influence in their extended compositions, inventive melodic sense, and the epic-scale soloing from their various guitarists (most notably Andy Powell, the group's sole constant member). Despite extensive personnel changes throughout their existence, Wishbone Ash maintained a distinct sound and a prolific longevity that earned them a lasting following. The group's most popular and best-regarded work came in the early '70s with their first four studio albums (1970's Wishbone Ash, 1971's Pilgrimage, 1972's Argus, and 1973's Wishbone Four), while they enjoyed a popular resurgence with 1987's all-instrumental Nouveau Calls, took a detour into electronic music with 1999's Trance Visionaries, and delivered a strong late-career effort with 2014's Blue Horizon.
The group's roots dated to the summer of 1966, when drummer Steve Upton formed a band called Empty Vessels with bassist/vocalist Martin Turner and guitarist Glen Turner. Empty Vessels soon changed their name to Tanglewood and moved to London; during a gig at the Country Club in Hampstead, they were seen by would-be rock manager Miles Copeland, who was impressed with the jazz and progressive rock influences within the band and offered to be their manager.
Glen Turner left the band at that point, and an advertisement for a guitarist resulted in the addition of both David Alan "Ted" Turner and Andy Powell, who provided the basis for the sound of the new lineup with intertwining riffs and phrases drawn from both soul and blues, coupled with Martin Turner's melodic bass sound and Upton's jazz-influenced drumming. A new name was called for, and after several suggestions by Copeland that proved unacceptable, "Wishbone Ash" was chosen from two lists of words. The group rehearsed for weeks at Copeland's home, working out an entirely new repertoire, and played their first gig opening for the Aynsley Dunbar Retaliation. It wasn't too long before they were opening for Deep Purple, where a soundcheck jam between Powell and Ritchie Blackmore led to a recording contract with the American Decca label.
Their self-titled first album appeared in 1970; Pilgrimage and Argus followed over the next two years, and each showed a major advance in the band's sound. The release of 1973's Wishbone Four reflected a greater maturity to the group, and was their first fully developed album, with songwriting that didn't hide behind a progressive pose but luxuriated in the members' folk music inclinations, without compromising the harder edge of their music. The album also saw the departure of Ted Turner, who was replaced by Laurie Wisefield.
Locked In and New England followed; Martin Turner departed after 1979's Just Testing, to be replaced by ex-King Crimson bassist/singer John Wetton. Wishbone Ash soldiered on through the '80s, and in 1986 even got back with Copeland, by then a major player in the recording industry by virtue of his management of the Police and his founding of I.R.S. Records. Wishbone Ash's history came full circle with the reunion of Powell, Upton, Ted Turner, and Martin Turner, who recorded three albums for I.R.S. They remained a working band into the '90s, led by Andy Powell and Ted Turner and touring and recording regularly, though Upton quit the band.
Martin Turner was replaced in 1993 after the band recorded The Ash Live in Chicago. He was replaced by returnee Andy Pyle, who remained only until 1994. Powell, the lone original member of the band, enlisted guitarist/songwriter Roger Filgate, bassist/vocalist Tony Kishman, and drummer Mike Sturgis for a European tour in 1995. When Kishman, weary from touring with Ash while working with other musicians in the United States, took a breather, Martin Turner finished the tour for him. Kishman returned to resume vocal duties on Wishbone Ash's 1996 studio effort Illuminations. In the aftermath, everyone but Powell quit again. He utilized a revolving-door approach to musicians and took the unusual step -- at the end of the first wave of rave culture -- of releasing two electronic dance albums on Invisible Hands Music that grafted synthetic beats onto Wishbone Ash guitar riffs. Trance Visionary was first, spawning a four-mix 12" that was a dancefloor smash and reached 38 on the U.K. dance chart, followed by the less successful yet critically acclaimed Psychic Terrorism.
(Psychic Terrorism also marked the debut of bassist Bob Skeat.)
In 2000, for the band's 30th anniversary, the acoustic collection Bare Bones was issued just before they hit the road to celebrate. While the personnel continued to shift and change, it didn't prevent Powell and company from recording Bona Fide, a back-to-basics studio date issued in 2002 before the band toured America with Savoy Brown. In 2004, Finnish guitarist Muddy Manninen joined the band, replacing guitarist Ben Granfelt who had been a member since 2001. In 2006, the band issued Clan Destiny before the departure of longtime drummer Ray Weston. He was replaced by Joe Crabtree, who made his recorded debut with the group on 2007's Power of Eternity. Other than touring, the band was inactive until 2011 when they issued their 23rd album, Elegant Stealth, with the same lineup. Since 2004, Turner has taken to touring with a band called Martin Turner's Wishbone Ash. Powell sued and won the sole right to the name in 2013. When the acclaimed Blue Horizon appeared in 2014, it marked the third straight studio recording to feature the same lineup; the longest-standing roster in Wishbone Ash's history. Manninen left after the tour and was replaced by guitarist Mark Abrahams. In 2018, the band's 12th album, 1982's Twin Barrels Burning, was remastered and reissued by Cherry Red. In 2020, as Wishbone Ash celebrated the 50th Anniversary of their debut LP, they reminded fans they were still in fighting shape with the release of a fresh studio album, Coat of Arms.
Social Links
The Rialto Theatre Presents
an evening with - no opening act
Wednesday
Doors:

7:00 pm

/
Show: 8:00 pm
21 and up