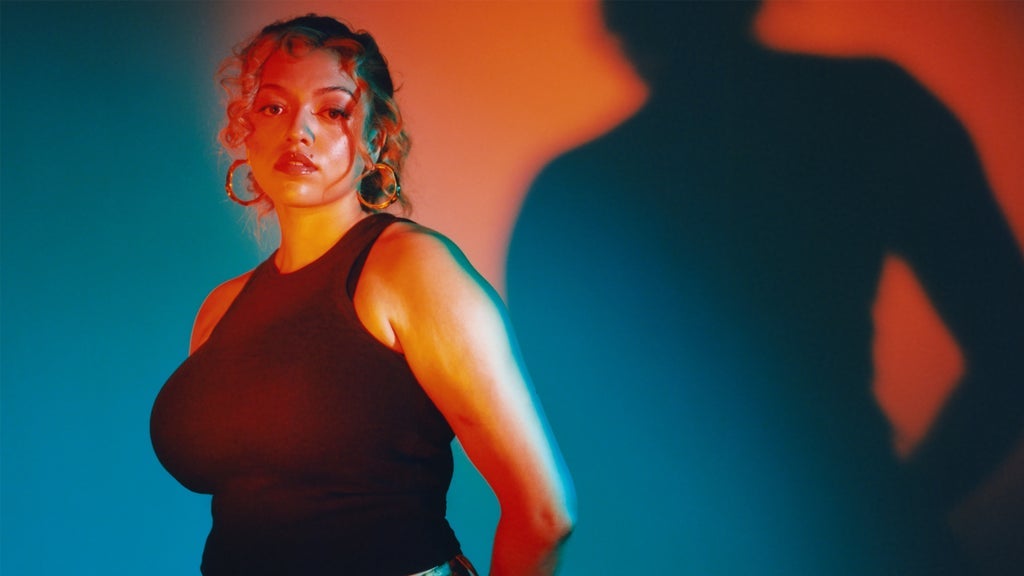 LiveNation & The Rialto Theatre Present
Mahalia: In Real Life @ 191 Toole
w/ TBA
Doors:

7:00 pm

/
Show: 8:00 pm
All Ages
Doors 7PM | Show 8PM | GA Standing | All Ages | Public On Sale - 10/6 10AM
______
To provide a safer environment for the public and significantly expedite fan entry into our venues, Rialto Theatre & 191 Toole have instituted a clear bag policy as of March 1st, 2022. The policy limits the size and type of bags that may be brought into our venues. The following is a list of bags that will be accepted for entry: Bags that are clear plastic or vinyl and do not exceed 12in x 6in x 12in One-gallon clear plastic freezer bags (Ziploc bag or similar) Small clutch bags, approximately 5in x 7in All bags subject to search. Clear bags are available for sale at the box office.
---
Artists
Spending her childhood in Syston, Leicestershire, Mahalia, similar to her geographical beginnings, felt like an outsider, particularly in school. Quickly, she turned those feelings into confidence and self love, finding refuge in the love of musical performance and ideation. Coming from a strong support system in her mother and father, she started performing at open-mic nights, learning to face her audience and sing with intention.
Mahalia's willingness to grow and shed her skin, led to her signing to Asylum/Atlantic Records at 13. "All of a sudden, I was back and forth to London at the weekend, in sessions and recording constantly," she says. Also attending the prestigious Birmingham Ormiston Academy, she added acting classes into her artistic repertoire, as well as opting to develop as a youth before diving full force into music.
The ability to pause activity whilst still being signed led to Mahalia embracing the multi-faceted, layered dimensions of being a teenager. Subsequently, her teenage experiences are what informed her debut long-player project Diary of Me, released in 2016, when the singer was only 17. "'Marry Me' and 'I Remember' were some of the first songs I ever wrote about love," she explains. Across the nimble, but ambitious release, Mahalia's concoction of experiences are beautifully put across neo-soul productions; her candid, Gen-Z references of Snapchat et al, helping to inform her societal, and romance-related ruminations.
But it was 2017 which saw Mahalia drop out of BOA, move to London and then back to Leicester before finally landing the first signs of musical breakthrough with 'Sober', which, upon its summer release of that year, and COLORS debut — now at 58 million views — went viral leading to a surge of DSP and social media growth in hours. "I was just watching the engagement skyrocket overnight."
Mahalia has never been one to shy away from her emotions, in fact, it's what heavily informs her discography to date. On 2018's Seasons, she aligns different aspects of romantic entanglements to the concept of experiences. "It definitely was intended to explore all of my various feelings, experiences, and expressions towards situations in love," she says. It's on the singer's debut album Love and Compromise however, that she stylistically blooms in experimentation and presents to the masses a holistic crème brûlée of approaches, particularly on releases like 'Simmer', which cracked the top 40 on the UK R&B Charts and top 50 on the Official Chart. Mahalia was effortless amidst the songs dancehall-laced, enchanting universe, proving her versatility as a British veteran in music.
Christened in many Grammy, BRIT, Soul Train and MTV Push nominations over the years, as well as two MOBO-wins for Best Female Act, and Best R&B/Soul Act, Mahalia still proves that beyond the accolades, an overarching dedication to persistence is what's driven her to look inward, grow and ultimately challenge herself with each and every release to date. Standing as one of British R&B's most successful contemporary faces, Mahalia continues to grow and establish herself in both her tact as an artist, but in building more robust ruminations sonically. As she evolves, her success becomes even more bonafide, both on home turf, but abroad too (she's cracked the US Adult R&B Charts three times to date). Mahalia's recent EP, Letter To Your Ex, is an example of the culmination of the artistic
development she sometimes inherited, but other times self-initiated under her years at Asylum/Atlantic. "I'm so much more present now, I had to reconnect with everything and I just wanted to do this concept, really toying with my 'partner's' ex dynamic and storytelling." 'In The Club' places Mahalia on new ground, a footing she was placed into by her partner also. Interpolating the 50 Cent's 'In Da Club', and half-singing, half-rapping, Mahalia's fuller and extended runs demonstrate her robust offering in 2022 whilst eloquently conveying her rap alter-ego. "I'm really proud of that song," she notes. Mahalia additionally leans into other sides of R&B's expansive ecosystem, this time infusing a smokey version of neo-soul, on 'Letter To Your N(ex)t' the EP's closer. Heavily conversational in her approach, Mahalia toys with her tone here, making the song feel as close to a direct response to someone as possible. 'Letter To Your N(ex)t' centres the woman, and across a minimalist piano, Mahalia's tranquil, pure and passionate execution are showcased to listeners with ease. Armed again with the likes of JD Reid, Max Pope and Benjamin Hart — who formed a quintessential part of Letter To Your Ex — Mahalia is in the final stages of completing her sophomore album determined to again spark more conversations. Aptly titled IRL, Mahalia is particularly incessant on doubling down on vulnerability, internal reflection, and a desire to feel, in the realms of love specifically as demonstrated on her last project. "I feel like there's even more personality on IRL. I want people to see me how I see myself." On the album's title track, she embodies a serene approach to realism atop a crisp meld of dainty guitar riffs and revitalised piano-led soundscapes. "Don't get me wrong now this was never easy, I remember when I was 13 with a big dream," Mahalia chants. Ruminating on her insecurities about moving to London, embracing music wholeheartedly and sacrificing her childhood, she's empowering not only herself, but other musicians. "I'm moving into womanhood now, and that means being more vulnerable, learning, reflecting. Embracing those fears and desires and what they really meant," she says of the title-track. "This is me being confident in myself, but also in those that may have ignored me on the way up, or those times that didn't quite work out. I'm here now and only growing." Mahalia continues to double down on both her confidence and enumeration with self-love at this juncture on 'In My Bag', which again, prioritises talking to herself and her needs and wants. "Please don't interrupt," she says before boosting her own ego. The need for reassurance comes from doubt that crept in across the pandemic on both Mahalia's stature as one of the leading renaissance women in R&B, both globally and on domestic soil. "I was speaking to my therapist actually, I was being honest for the first time in a long while," she admits. "There's always a worry that you will not be credible or popular anymore, and I think that's a worry on a lot of artists' minds." Stemming from her years of being what she notes as an 'outsider' in school, this doubt has followed her in music. The break across the pandemic gave way to these doubts again as Mahalia battled through the recording process of her second-LP. Channelling these emotions into bonafide empowerment anthems, she fights back acknowledging her abilities and prowess across her 10-year formalised career. "You could be making moves, instead of talking 'bout it," she sings-raps across the song's chorus. Closely inspired by Lupe Fiasco's approach to rap — she acknowledges his seamless 'swings' in flow — as well as the neo-soul intentional, proclamation-focused archetypes led
by the Angie Stone's and Jill Scott's of the format. Mahalia embodies every-bit the refined talent that she's come to be and proves exactly why she's only growing across each and every phase of her career.
'Ready' then acts as a metamorphosis into who Mahalia is in 2022. "It's time to let go of the pain of the last two years," she echoes, nodding to her own recollections of the song's lyrics. But Mahalia isn't just ready in a career sense, she's ready also to embody love. Amid her calls for "celebrating her winnings," she also shares that she's similar to her mother and father, who wrote music together in their early years. Penning the song with her partner Benjamin Hart, Mahalia is determined not to cut corners, sharing that she "wrote this song with the help of [her] lover". "[Benjamin] also does backing vocals on here too, it just feels so present, I wanted this to feel collaborative, it's our little moment," she laughs.
Leaning further into traversing the realms of romance, Mahalia odes love in abundance on 'Bag Of You'. Tender and ethereal in its construction, the singer invites listeners into her dreams, unapologetically owning her affectionate stature. "Can you please tell me where your love is from? So I can stop by the shop and pick up a bag of you," she asks reverently across the song's chorus as elongated violin strings locomote her soothing vocal. "Talking about love has become so negative, people really aren't hopeful," Mahalia begins. "Who the f*ck taught you not to be."
Passionate in her commitment to a heartfelt display of emotion, she combats the current trend in music of toxicity in this terrain and calls for a balance in perspectives. As a result, Mahalia says that "[This culture] has not allowed people to feel all encompassing, suffocating emotions." Throughout 'Bag Of You', Mahalia sometimes even apologises for her neediness, but still battles through her conflictions to be transparent, admitting she wants her lover all to herself. In her head, Mahalia wants to make her fans feel in the way that an older generation of lovers made her feel. Citing Bonnie Raitt's 'I Can't Make You Love Me', as well as Anthony Hamilton's 'Charlene' as exemplary love staples.
Emboldened by her inflections, insights and young adulthood, Mahalia is not only breaking the mould on IRL, but determined to live life cognizantly. "This is a real reflection of the journeys I've had, what actually happened and a celebration of everyone who got me there. There are names and family members I mention because it all helped in shaping who I am," Mahalia rationalises. With an innocent, yet assured gleam appearing on her face, "I'm so proud of this project, and so proud of how much I challenged myself to just let those stories out."
With her legion of 3.3M monthly Spotify listeners, and an opener performance for Adele at Hyde Park this summer, as well as a stellar prime-time Commonwealth Games closing ceremony set, there's more territory to break. "I'm almost glad Love and Compromise didn't go completely sky high, it's given me room to keep developing, keep growing and go higher than I've ever been before. I'm so ready to bridge the gap now, I feel like I'm absolutely playing the long-game."
Social Links
---
---